Real-time data via 5G? That works like a charm
Heavy snowfall. A sudden heat wave. Unexpected maintenance… Anyone responsible for rail transport sometimes faces a considerable challenge. Dual Inventive's sensors and systems monitor thousands of kilometres of track in real-time, in collaboration with Vodafone Business. In this way, risks are reduced and carriers can transport their freight and passengers more safely and efficiently.
The European rail network is the largest in the world. In the European Union alone there are 280,000 kilometres of track, and within the Union the Netherlands has the busiest railway. Planned and unplanned maintenance is required to guarantee the safety and continuity of railway traffic. The trick, of course, is to ensure that this takes place without causing unnecessary delays for passengers and freight. And that is where Dual Inventive comes in.
Through 5G, wireless sensors and real-time data, Dual Inventive make railways around the world safer, more efficient and more reliable.
Fewer delays, fewer problems
Dual Inventive develops technological systems for optimal and safe railway use. Vodafone Business supplies the Brabant-based company with a complete Internet of Things (IoT) network. The aim: to make railways safer, more efficient and more reliable at home and abroad. How? By deploying sensors to monitor the temperature of the rail and other parameters for predictive rail infrastructure maintenance, but also the provision of highly reliable rail worker safety protection systems. In practice, all this leads to considerably fewer delays and fewer railway traffic problems.
Real-time, scalable and affordable
Sometimes they seem like minor innovations. But in practice, they deliver impressive benefits. Those who can remotely measure the performance of their assets can anticipate the optimum time to intervene and schedule maintenance or component replacement efficiently, ensuring rail network availability. Protecting the workplace of rail workers, via remote control, ensures maintenance is not unnecessarily delayed. Worker access to track is effective without train service impact. With new real-time, scalable and affordable solutions, planning maintenance becomes much more efficient, there are fewer delays and fewer disruptions to railway operations.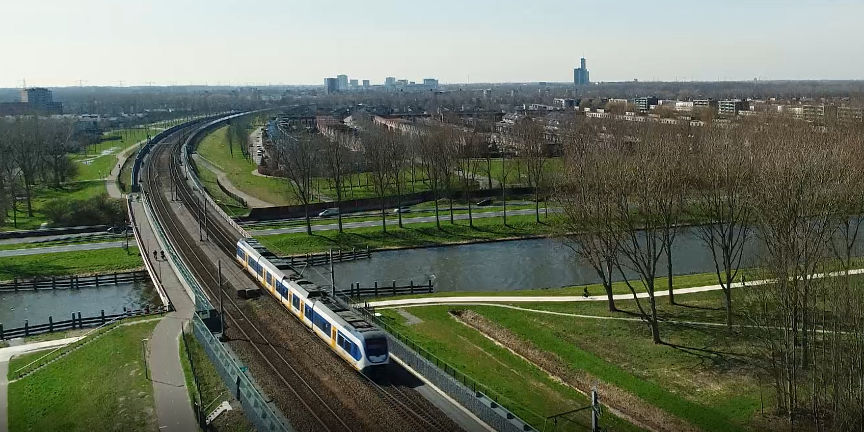 Maximum – and safe – use of the railways
Disruptions and delays on the railways can have a major economic impact. Moreover, they often cause a great deal of frustration among travellers and train operators. It is crystal clear that smart maintenance is crucial to keep the railways functioning optimally. The aim is always to make maximum use of rail capacity while maintaining the strictest safety standards.
NB-IoT and LTE-M for the transport of the future
Dual Inventive systems use IoT technology for monitoring and – where necessary – preventive maintenance of the railway network. The company uses two 5G networks from Vodafone Business, Narrowband-IoT (NB-IoT) and Long Term Evolution for Machines (LTE-M). Vodafone partner networks also support their international operations in Belgium, France, Germany, Great Britain, America and Australia. Lex van der Poel, CTO of Dual Inventive: "We strongly believe in partnerships to further develop the use of the railways. In our view, rail transport is the attractive, sustainable transport mode of the future."
"Railways can be used more efficiently and effectively with wireless technology."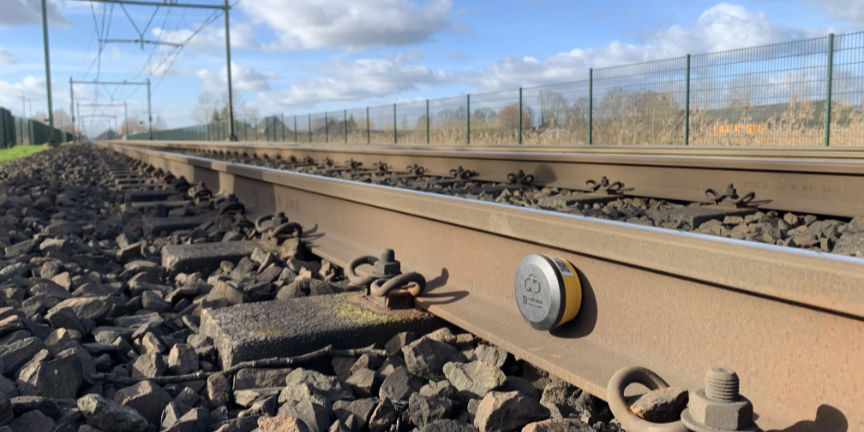 One SIM for all IoT networks
LTE-M and NB-IoT are so-called low power wide area technologies. These networks boast supreme coverage and can connect IoT sensors without using much energy. Where 5G network limits are met along the railway track, Dual Inventive's systems will, without any intervention, switch to other available networks like 2G and 4G, thanks to a special multi-bearer SIM.
Van der Poel: "Dual Inventive has found a partner in Vodafone Business with whom we can realise our future ambitions. We believe that the railway system is the transportation mode of the future. We are convinced that it can be used more efficiently and effectively by using wireless technology. Since 2008 we have been providing IoT technology that makes working on the railway infrastructure up to 40% more efficient, resulting in valuable railway capacity for the Netherlands and abroad. With Vodafone supporting us we can continue to provide an effective and sustainable IoT platform to support an intelligent infrastructure and the increase of rail network efficiency".
Also read:
Dual Inventive connected to 5G Hub on High Tech Campus Eindhoven to prepare the rail system for the future
Dual Inventive launches company AnyWare after gaining experience with IoT and sensors
More about our CRM 3000 sensor
Order the CRM 3000 sensor in the MTinfo 3000 webshop