Digital track safety systems are increasingly popular in the UK rail market
9 February 2021
In recent years, the UK rail industry has been embracing new technologies to both increase track capacity and improve the safety of rail workers. Adrian Calladine, Product Implementation Coordinator at Dual Inventive Ltd, works to help market and deploy this new technology in the United Kingdom. In his opinion, the implementation of these new technologies cannot go fast enough. He hopes to encourage a 'new way of thinking and working'.
The UK's infrastructure manager, Network Rail, currently owns some 1,200 of Dual Inventive's ZKL 3000 RC (a Remote-Controlled Track Circuit Operating Device) which are currently installed all over their network. Adrian says:
"The system can be installed semi-permanently and right now, it is mainly used by Network Rail for day-to-day maintenance. On the continent however, the devices are used extensively by project contractors, enabling them to achieve similar safety and efficiency gains to the infrastructure managers and our goal is to bring that way of working to the UK too."
Rail projects
When activated, a ZKL 3000 RC simulates a train in the section, causing the track circuit to show 'occupied', thus placing the protecting signals at danger. The section is immediately blocked, enabling rail workers to perform their work on track safely.
Deployed by RSS Infrastructure on behalf of Morgan Sindall, one of the projects where ZKL 3000 RCs are currently being deployed is on the construction of a new two-track line in Werrington that will continue through an underpass under the East Coast Main Line. VolkerFitzpatrick, is currently also applying these systems in the construction of a new train station on the Midland Main Line and Thameslink routes.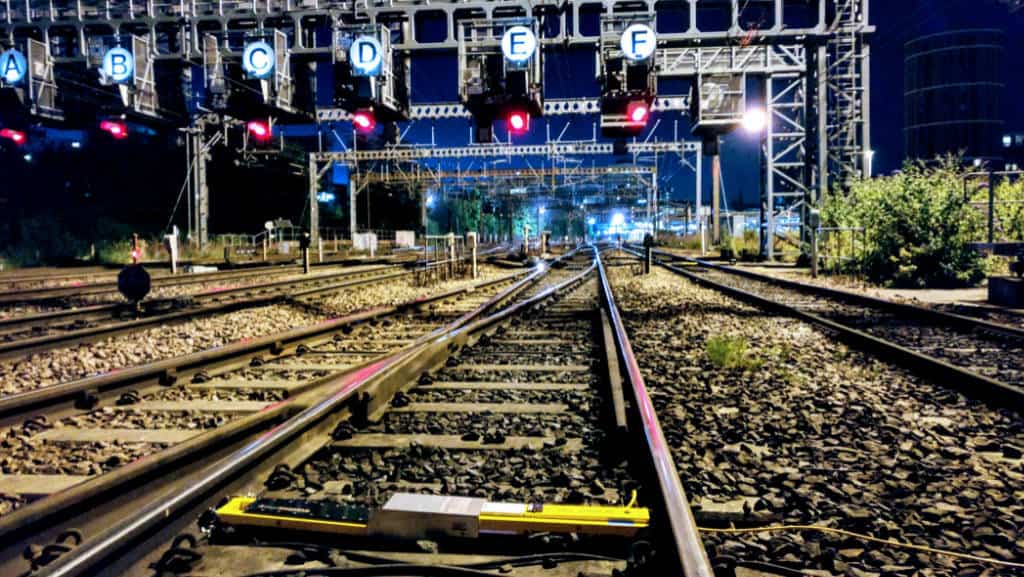 Collaboration
Adrian has been active in safety for over twenty years. He started at Motherwell Bridge in 2001 and has since held positions at various companies as a specialist in Automatic Warning Systems (ATWS), that warn track workers of approaching trains. In 2005 he first came into contact with Lex van der Poel, director of Dual Inventive. At the time, he was still working for construction company Carillon in charge of ATWS Deployment.
In 2010, the two met again when Dual Inventive rented space from Rail Safety Solutions Infrastructure (RSS Infrastructure). RSS Infrastructure is a UK based company known for being at the forefront of technology and innovation, helping Dual Inventive drive awareness of their new technology in the UK.
Product implementation
RSS Infrastructure leases ZKL 3000 RCs from Dual Inventive for use on a number of their active projects. Additionally, they have helped to identify further opportunities for the application of these devices. Adrian joined RSS Infrastructure back in 2010 and assisted with the implementation and product approval process for the ZKL 3000 RC.
Since July 2020, he has been working at Dual Inventive and continues to work alongside RSS Infrastructure to further introduce Dual Inventive's products to the UK rail market.
"My main task is to help Network Rail deploy our track safety equipment more widely. I want to help them gain further confidence in this technology. With the implementation of new technology, it's about a hearts and mindset change. It takes time for people to adjust to this new way of working. It would be great if we can bring about this change."
Busy track
The UK has thousands of kilometres of track that need to be maintained. In recent years there has been an exponential increase in the number of passengers and amount of freight being transported on the network. This means that the timetable is being heavily optimised so that trains can flow with increasing frequency. The maintainers and contractors therefore only have limited time to work on the track,
The advantage of the ZKL 3000 RC is that, once installed, no one has to go onto the track anymore to activate their safety measures. This method is safer and it increases productivity as it maximises the workforces time on track.
Passion for innovation
It is sometimes quite exciting that railway staff are given control of their own safety using an app on their phone.
I'm trying to help them with this. When I see people working with the system and they say with a smile: 'This actually works very well, I don't understand why we didn't do this before', then you know you have achieved something."
He concludes with:
"My goal is to build trust in people who are normally put off by technology. Everyone at Dual Inventive has a passion for innovation and we believe in a new way of thinking and working. I want to convey this message to the rail industry in the United Kingdom."