Rail Ambassadors present final report on European Year of Youth
14 December 2022
On 14 December 2022, rail ambassadors of the European Year of Youth Marleen van de Kerkhof (on behalf of Railforum and Jonge Veranderaars) and Oscar Vermeij (on behalf of Rail Cargo information Netherlands) handed over their final report titled "The future is ours!" to State Secretary Vivianne Heijnen of Infrastructure and Water Management. In the report, Van de Kerkhof and Vermeij share their findings on the image, diversity, ageing, sustainability and innovations in the rail sector and bring recommendations on how to inspire and attract new talent.
In the report, the ambassadors state, among other things, that the rail sector has an unjustified outdated image among young people. The sustainable and innovative nature of the railways should therefore be brought much more to the attention of young people in general and (young) women in particular. In the highly diverse railway sector, they say, partly thanks to digitalisation, challenging and meaningful jobs are available for everyone. However, the structural staff shortage limits the potential of the European rail system to make transport more sustainable. Van de Kerkhof and Vermeij call on the sector to actively involve the young generation in the cross-border collaborations and digital innovations that increase available rail capacity.
Marleen van de Kerkhof, who works as International Affairs Manager at technology company Dual Inventive, said:
"It was great to get so many enthusiastic reactions from young people when I told them about sustainable innovations in rail, The train is the mode of transport of the future and youth is the future of rail. So let's continue to inspire young people with all the wonderful, digital innovations that improve international rail transport, because unknown makes unloved."
Oscar Vermeij, Project Development Manager at Rail Innovators Group, added:
"It is incredibly important to present the rail industry at its best to the new generation. This industry has so much to offer: an international working area, a lot of cooperation and innovation. Show what you have to offer!"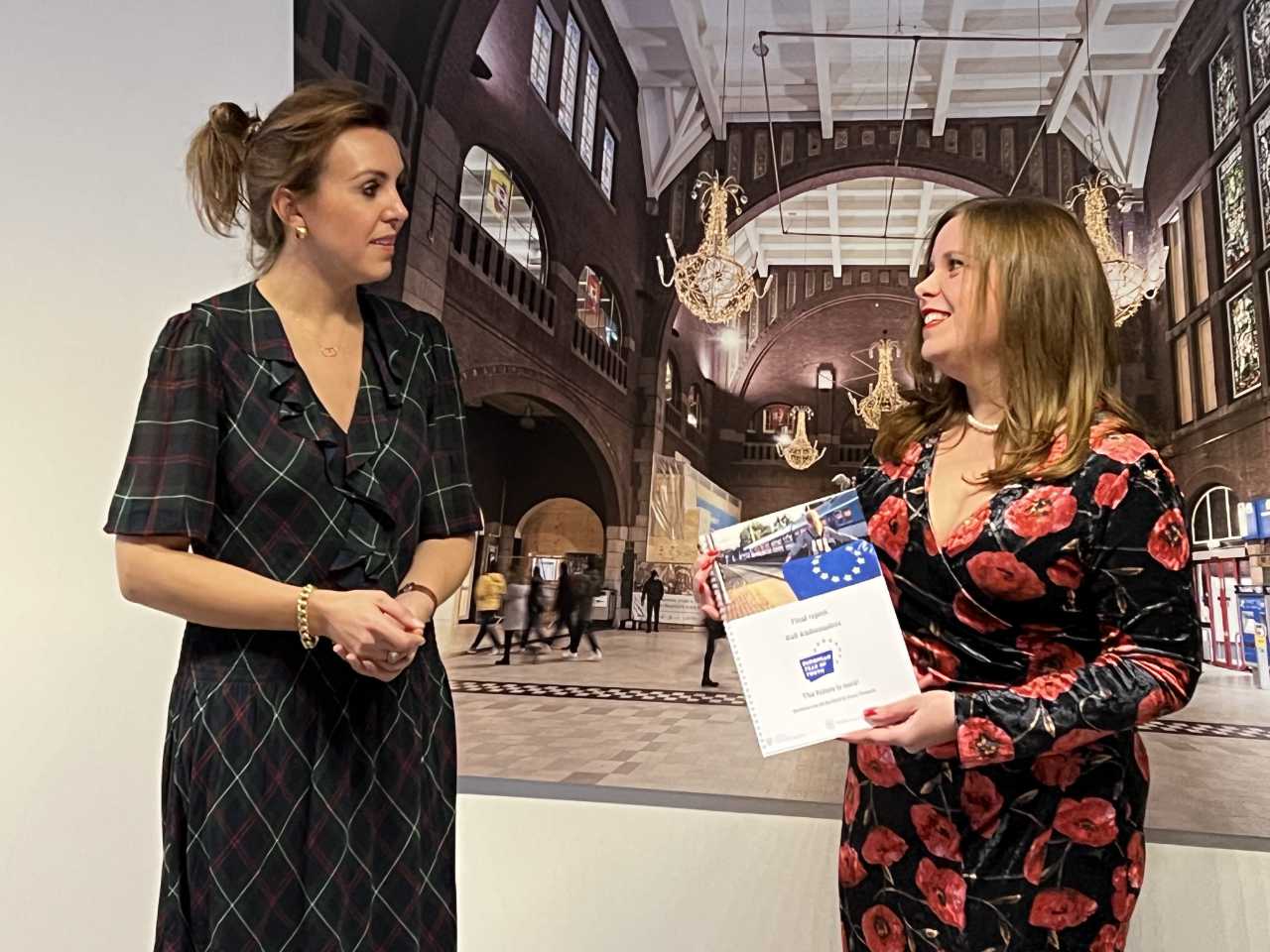 State Secretary Heijnen said it is nice to see these rail ambassadors drawing attention to making rail attractive to young people:
"It is more important than ever to get young people excited about a job in the rail sector. After all, the future of rail starts with young people."
The report marks the conclusion of a successful year in which the rail ambassadors encouraged young people to choose a job in the rail sector and took steps to improve the industry's image.
As speakers, Van de Kerkhof and Vermeij delivered their message at numerous national and international events, including RailTech Europe, RailFreight Summit, Railfestival and UIC World Congress on Rail Training. To reach the young target group, they spoke to students at several colleges, at RailTech Europe and InnoTrans. Van de Kerkhof also organised visits to politicians and policymakers in Brussels and The Hague together with Jonge Veranderaars for students and young professionals.
The European Commission declared 2022 as the European Year of Youth to highlight the importance of youth in building a better future, which is sustainable, inclusive and digital. The rail industry plays a crucial role in this as it offers the solution to make transport more sustainable. This makes rail an attractive sector for young people, who increasingly value sustainability.
Final report 'The Future is ours!' – European Year of Youth: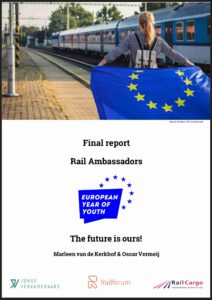 Also read:
European Year of Youth – More young people on the train and working in the rail sector