Monitoring overhead line expansion without costly inspections
The overhead line of the railway supplies rail vehicles with power. In order to do this properly, the overhead wires must always be kept at the right mechanical tension. Unfortunately, they are sensitive to weather conditions, which makes costly inspection rounds unavoidable. Fortunately, the NB-IoT technology of the Digital Input Monitor (DIMO) in combination with MTinfo 3000 puts an end to this.
Expansion of the overhead line
Weights at the beginning and end of an overhead line section compensate for the expansion of the copper contact wires during warm summer days. Thanks to the weights, the overhead line remains tensioned, which is certainly important when rail vehicles are travelling at high speeds.
Due to climate change, however, we are increasingly having to deal with heat waves or longer periods of higher temperatures. The overhead contact line then expands further than the catenary weights can cope with and starts to sag. The risk of it being pulled apart by passing train traffic therefore increases considerably.
Inspections are costly
In order to prevent overhead lines from being damaged, train traffic from being halted and railway workers from having to go out to repair them, regular inspections of the overhead lines and the weights are carried out. This is costly and, moreover, railway contractors have to divide the work between an ever-shrinking team. This calls for smart and efficient working.
Remote monitoring of catenary weights
The Digital Input Monitor (DIMO) combined with the monitoring application Insight is a reliable replacement for inspection rounds. Once mounted on the catenary portal, this sensor continuously monitors the height of catenary weights. As soon as a weight passes a preset height (threshold), a push message is sent to the right person via Insight.
Cost savings
This real-time information ensures that expensive inspection rounds are not necessary. Via the applicaton Insight you can monitor the height of the catenary weight. You only have to react proactively to messages from the DIMO in order to prevent possible failures and delays. This makes the working process smarter and more efficient, with cost savings as the icing on the cake.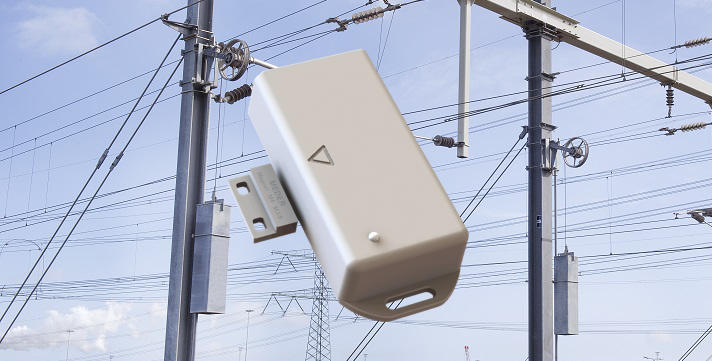 Also read:
Order the DIMO in the MTinfo 3000 webshop